Lee Roy Salmon… the man. The myth. The legend. He single-handedly took Tampa Bay and molded it into the lump of Floridian half-pride that it is today. And then he died of a stroke. We honor his memory by eating the food he invented.
In the year 2000, Outback Steakhouse had sex with Lee Roy, and they had a baby. That baby quickly grew into one of the 10 best sports bars in america in 2009. :D It was called: Lee Roy Selmon's. Sometimes it looks like a house.
What you've got here is your typical sports bar-type situation, with lots of screaming idiots, huge television screens, and SPORTS SPORTS SPORTS. So if you like that sort of shit, this may well be the place for you! If not, don't worry! They still sell things like food and drinks, so as to keep you entertained while your friends mindlessly gaze up at the television screens and deny you the pleasure of their company.
This is the New Tampa location, on Bruce B Downs. It is a lot like Outback, actually, but instead of all that bullshit traditional Australian food (wait… do they serve Australian food at Outback?), they serve some badass down home southern cooking. This includes fried chicken, ribs, collard greens, and pulled pork. And gumbo. THEY GOT IT ALL AT LEE ROY'S (that's their slogan). They also add a few little touches here and there to make the experience really something special. For example:
Red Lobster has their Cheesy Salt Biscuits. Olive Garden has their breadsticks. Outback has their brown color bread with sweet butter. Lee Roy Selmon has these. This is one of their rolls. They are pretty decent as they are, pillowy and warm, but they add something I've never had before – barbecue butter sauce. It's made of good. And I guess barbecue sauce and butter. It's just excellent… sweet, salty, barbecuery. A great starter.
I split Lee Roy Selmon's special "Smokin' Tampa Tea for Two" with my girlfriend, which is pretty much a necessity at this place. It is a boozy kinda drink, reminiscent of a Long Island Iced Tea, except super fruity – "Finlandia vodka, Captain Morgan rum, DeKuyper peach schnapps, sweet and sour, grenadine, fresh orange juice and a floater of Meyer's Rum". OH HELL YEAH. Also, it smokes like some kinda halloween cauldron, because of dry ice. It's like drinking liquid Harry Potter, right in front of a bunch of smug jocks. Score one for the nerds.
And wings!! They have wings. This particular recipe, for the "Selmon Brothers Wings", has been passed down since the dawn of time, when the first Selmon, Keyrock Selmon, killed a bird, marinated it for 24 hours and slow smoked it to tenderness, then grilled it to perfection with his spicy Oklahoma sauce. Instead of frying it. The sauce is a nicely spicy barbecue, and the wings are in pretty good condition themselves. They play like they're grilled, but they love like they're smoked. They don't touch Coppertop's, not by a long shot, but they don't really seek to. They're solid wings, and they definitely grow on you.
I got a salad with my meal, which ordinarily I'd wouldn't bother to photograph, but even the salads here are a bit different. They use shredded lettuce instead of leafy… leaves, so that it's almost like eating a coleslaw. But not gross. It provides a unique texture, that puts a little spin on things. Just like Lee Roy's patented Selmon spiral! I got a mustard vinaigrette sauce, which I always get there, because it kicks ass.
Here you go… proof of my manliness: steak dinner. With smashed potatoes. Now Lee Roy loved his steak (even more than he loved his mama's meatloaf). We all know the story about how he won Super Bowl 14 by distracting the third guardsmen of the opposing team with his famous Selmon style fillets. So it should be no surprise to learn from me that the steaks here are adequate. They're pretty okay steaks. Not bad by any means! They just won't blow your football boots off. Pretty good though. My friend and I used to come here all the time just to get steaks. And discuss politics. I used to be amazing.
Anyway, I got the 10oz sirloin, medium rare (they do a good job of cooking to order). I ordered it "Selmon Style", which means they toss some parmesan garlic butter on the top of that bad boy. You may as well go for it, because, as an associate and fellow food lover of mine pointed out, they pretty much season the shit out of these steaks. Which is good if you're in the mood for it! They have a good flavor. But if you are wanting raw bloody meat flavor, this isn't really the place to go.
The smashed potatoes were just lovely.
My girlfriend got this chicken stuff, called "Sweet Heat Fried Chicken". I was expecting some straight up fried chicken, but I was wrong. They are boneless chicken breasts, fried and seasoned with some mildly spicy stuff. They were nice and crispy, but not very moist on the inside. They were served with some sort of sweet/spicy glaze sauce, though, which helped make it less dry. But it was easy to overdo it with the sauce. I'd stick to steakz.
So, all in all, Lee Roy Selmon's is a pretty awesome place. Typically, I like to avoid sports as much as possible, but I don't mind getting all up in that football pitch for some Lee Roy vittles. Oh! And the end of the meal, they "finish you off" with a hot hand towel, for you to wipe up your various body parts… or whatever. I don't really know what they expect you to do with that thing. It's kind of awkward really. But it's all part of the Lee Roy experience. And that's how he would have wanted it.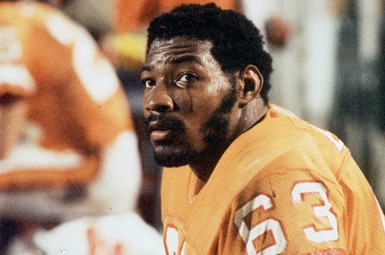 RIP
Lee Roy Salmon
1986-2003
"Heroes get remembered but legends never die."
-Babe Ruth, Professional Footballer