Savvy Jack… now that's a good name. Obviously it refers to someone in the know, probably a pretty cool guy. And there's something vaguely familiar about it. But apparently this particular Jack is of the omelette-savvy variety (the best variety??).
Savvy Jack lives in beautiful, sunny Temple Terrace, in that same plaza with the hookah place. I've seen it many times, but for some reason never really noticed it. That all changed when my friend dragged me there, wholly against my will. Upon entering, we were met with this:
Terrifying. What kind of a place is this? What's with all this junk? Why is there a tiny C-3PO? And… is that… IS THAT-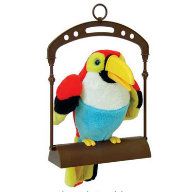 Ho-ly shit. That bird dude. From my childhood. What's he doing here? What kind of dream land is this?? All of a sudden, as if spawned from the darkest depths of my nightmares, a gentle old lady with a French accent approached us, and began cleaning up a table for us to sit at. My god… was I in hell?
Clearly I was in some sort of alternate universe. Not pictured is the chef, who would emerge from the kitchen every now and then wearing a real life chef's hat. You know, like in the cartoons. This place was born of my childhood mind, and sat quietly in this plaza just waiting for me to stop by. We were seated, handed menus, and our drink orders were taken.
The menu was split in twain, with breakfast items on the left and lunch items on the right. The breakfast side is composed of omelettes, crepes, and platters, while lunch involves sandwiches, burgers, daily specials, and quiche! Aww yeah quiche. I was a bit overwhelmed, and asked our host, who grew more and more delightful by the moment, for recommendations. She did a good job of pointing out pretty much every item on the menu, which did me little good. I was still torn between breakfast and lunch!!
I finally had settled on the beef chardonnay, a beefy-type sandwich with sauteed mushroom and served with au jus (I love a good French dip, so this sounded great). Then she noticed the crepes ("oh! I forgot the about the crepes!"), and everyone else was getting breakfast and peer pressure and all so BAM:
HAM CREPE. Done. And it was a beast of a crepe. This is basically a fancy french burrito, stuffed with cheese and ALL THE HAM, then coated with more cheese and tomatoes and shallots and one olive(?), and with a couple ham wings thrown on the plate for good measure. To the side, you can see a tiny bucket of home fries.
The crepe was great, tasting strongly of LOVE. The outer "crepe" itself was perfectly prepared, soft yet crisp, warm and filling. The ham was good, not earth shattering, but quite what you expect, and coupled with the cheese well. It was a really simple meal, but it was very satisfying.
Home fries were similarly well prepared, with no physical evidence of love, but the flavor was present nonetheless.
I know, I should have ordered the omelette, as they are described as "first-class", but I somehow missed the giant printing of those words on the window when I first arrived, and the waitress was not pushing them, even when prompted for recommendations. On my next visit, I will try the omelettes.
And we finished our meal with a chocolate mousse, split between the four of us. We were all mostly stuffed by this point, but the temptation was too much to resist (as was our waitress, who was insistent that we get something). It was delicious and smooth, creamy, lightly chocolatey, and whipped to hell and back. It was pretty damn amazing.
The result of the entire meal was a good, hearty breakfast/brunch/lunch, featuring a few dishes you won't typically find at chains or other diners, all delivered to you by two hard working people; the owners, Roger and Nicole, come from France, and this is their second restaurant in the country. This place is the classic family owned and operated diner, fully realized. There is a French flair to the food, the people are warm and lovely, and it feels like home.