San Antonio is the city of the future. Flying cars, food in pill form, socialized medicine… truly the world of tomorrow – today.
OR NOT.
The number one mode of transportation in San Antonio is a horse. The city's electricity is provided by kite and lightning bolts. Blood letting is the new medical craze sweeping the area. It's basically the middle ages. And that's why I was so surprised to find a hip gem like Local Public House and Provisions spring up in the city.
Taking the space formerly occupied by the San Ann Market, Local Public House has barreled into the core of San Antonio, bringing the concept of farm-to-table super-fresh hyper-local food stylings with it, undoubtedly freaking out the locals and causing a general state of panic. The Local is part pub, part restaurant, part shop, and entirely comprised of locally-produced goods, stabbing an over-sized adrenaline shot straight into the heart of the OD'd local economy, and providing their customers with food made from animals they knew in their personal lives.
My first visit to the Local spiraled out of control into a decadent feast of plenty, spanning multiple beers, three appetizers, and two entrees. Needless to say, it was a good time. We began with a quick tour of the place, which has been entirely revamped and turned into something a bit more glorious since its San Ann Market days – a huge step up in atmosphere is provided by the low lighting, exposed ceiling, and simple color scheme… you get mostly dark wood and white walls. The addition of a long, beautiful bar with a wooden top is most welcome, and the whole place has a fresh feeling that is simultaneously old and modern; it's a hipster's wet dream.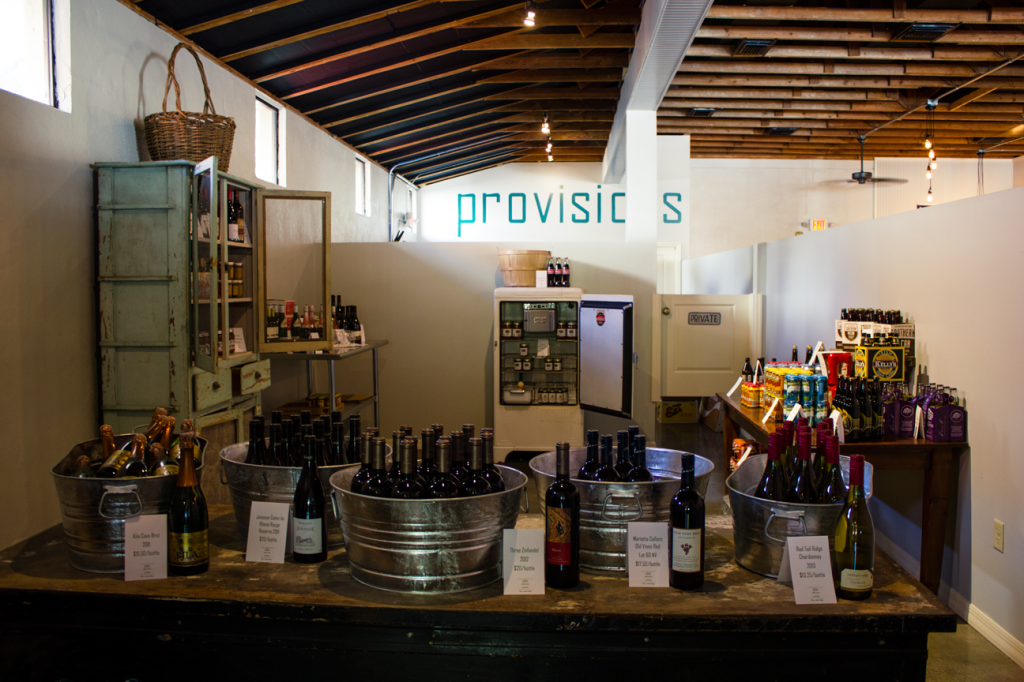 To the side, there is a little lounge-type area and a shop, providing the "provisions" as promised in the name. Here you'll find a smattering of locally made goods, including preserves and beer. The area is set up with old timey furniture, looking kind of like a far less annoying/racist Cracker Barrel. The dining area was comfortable and open, and most of the seating took the form of a long cushioned bench that ran most of the length of the building, looking in on the open kitchen.
Starting off with appetizers, I was able to partake in a hopelessly addictive soft and pillowy pretzel bread, served steamy hot with a side of mild, creamy beer cheese; an andouille sausage corn dog with a delightfully airy batter and a no-too-spicy sausage accompanied by a cajun mustard sauce that left a light bite in the back of my throat and left me wanting more; and a simple bowl of boiled peanuts, which just may be the best appetizer I've ever encountered. Their boiled peanuts may have not been the most tender I've ever had, but they had a solid flavor, and the fact that they served them as an appetizer at all is revolutionary to me.
The Local has a somewhat limited menu, and as far as I can tell, this is because they endeavor to make sure each item they serve is done complete justice. This certainly seemed to be the case. As an entree, I was lucky enough to sample both the burger and the catfish and chips, and both dishes were excellent. The burger was served with some of the freshest, most incredible toppings I've ever had, to the point that they almost overshadowed the meat. Leafy, gorgeous lettuce, crisp red onions and a juicy slice of tomato, along with deliciously dill pickles with a light sweetness to them… each played a significant role in the overall flavor, combining with the lightly seasoned meat on a chewy brioche bun to make an entirely satisfying burger (though a bit overcooked). But the catfish and chips turned out to be the highlight of the meal, with the most tender, juicy, amazing catfish I've ever had coated in just the right amount of a nice cornmeal batter, not to mention the colossal size of the pieces – it was everything you could want from a piece of fish.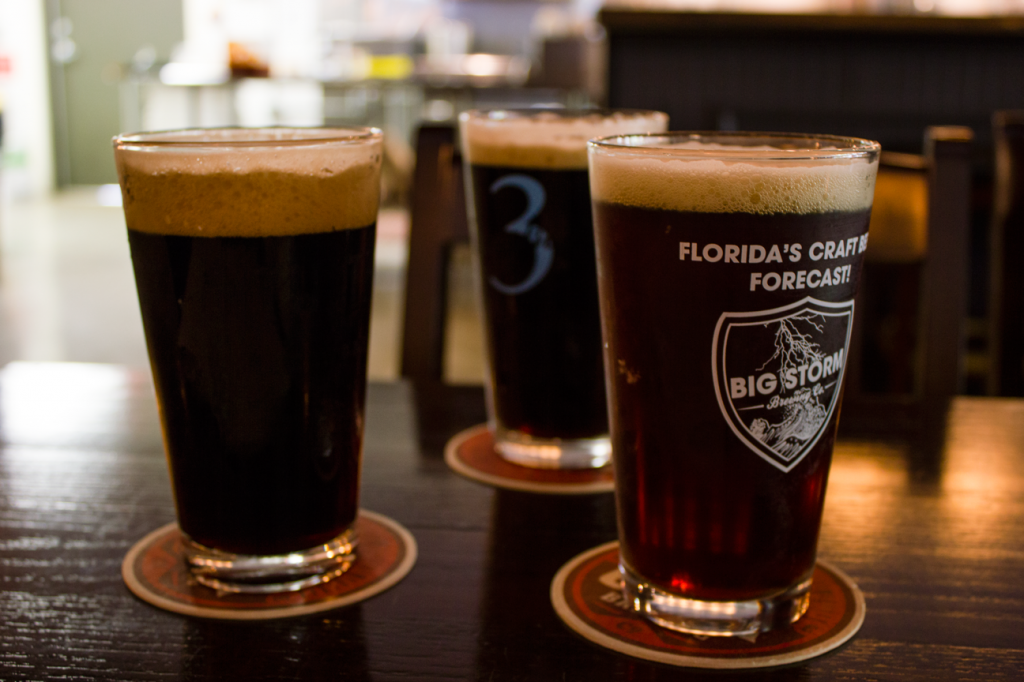 My meal was accompanied by a bunch of delicious local beers, as recommended by our incredibly knowledgeable server… here's a quick rundown of the beers along with their origin:
The Motorwork Brewing Coffee Porter from Bradenton – An incredible beer… it was like drinking a coffee soda. Lightly sweet resolve. Very pleasant.
The 1901 Red Ale from Bold City Brewery in Jacksonville – A bit heavy for a red.
The Black IPA from Green Bench Brewing Company in St. Petersburg – Only lightly hoppy for an IPA… apparently the black takes off a lot of bite. Very drinkable.
Rapp Brewing Company's Gose from Seminole – Super light and citrusy… it was like a soda… like a lemonade soda.
The Father Francisco Belgium from Miami's Wynwood Brewing Company – A mild caramel sweetness with a phat phlavor… quite heavy… almost a dessert in itself.
Tampa Bay's Coppertail Brewing Co. Purple Drank Weisse – The boysenberry Floridaweisse that tastes like a fucking juice… a sparkling god damned juice – sweet and delicious, more like a cider than a cider.
The visit was excellent, the food and beer were incredible, and the place is all about the local, which I can certainly get behind. 10/10, would go again. There's a patio area, they have live music, and when there's not live music, they play badass rock like The White Stripes… it's got it all. If you are ever in the area, or god forbid live there, please take the time to check out Local Public House and Provisions. You won't be disappointed.
Local Public House and Provisions is located at 32750 Pennsylvania Ave in San Antonio.
Open Monday through Thursday 11am-9pm, Friday and Saturday from 11am-11pm, and Sunday 11am-8pm.