With Tampa Bay's food scene blowing up all around us and new and exciting restaurants sprouting up every month, it's easy to get lost in all the amazing food options for us to choose. Whether it's mountains of meat, classy Florida-inspired cuisine, or just your run-of-the-mill deep-fried gluttony, we are surrounded by incredible food, and it may be easy to loose sight of the fact that some people aren't in a position to be eating like we are. Some families can barely afford to eat at all.
Feeding America, a network of more than 200 food banks across America, provide over 840,000 people in the Tampa Bay area with food every year. And one in four of those people are children. Hunger is a real problem, affecting people with all sorts of educational backgrounds, all household sizes, all races. And while no individual effort is going to solve this problem, every bit helps. The Give & Grub Food Truck is playing a part in this struggle, and providing us an opportunity to help as well.
The Laser Spine Institute, which began in Tampa, partnered with the Tampa Bay Lightning, have created a food truck serving gourmet food, and 100% of the money they bring in through their sales go toward feeding hungry children in the Tampa Bay area. Started in October of 2014, the Give & Grub Food Truck travels between corporate parks and is in attendance at Lightning games, and for each meal sold (along with every Tweet or Instagram post using the #giveandgrub hashtag) they are able to provide a meal to a child in need through bay area elementary schools. They also put together monthly events at Boys & Girls Clubs in Hillsborough and Pinellas counties, providing children with a hot meal, a backpack full of non-perishable food items to last them the week, and a fun event for the evening. To date, they have donated over 25,000 meals, with a goal of providing 150,000 meals per year.
The menu, developed by chef Bryan Goodell (of Tampa's Wicked Wiches) and Roaming Hunger, currently consists of seven different items, all the favorite foods of the different Lightning players they are named after; for example, the Chicken Parmkos Sandiwch (a chicken parmesan sandwich), Hedman's Steak Tacos, and the dish I tried, Cooper's Candied Burger named for Lightning Head Coach Jon Cooper.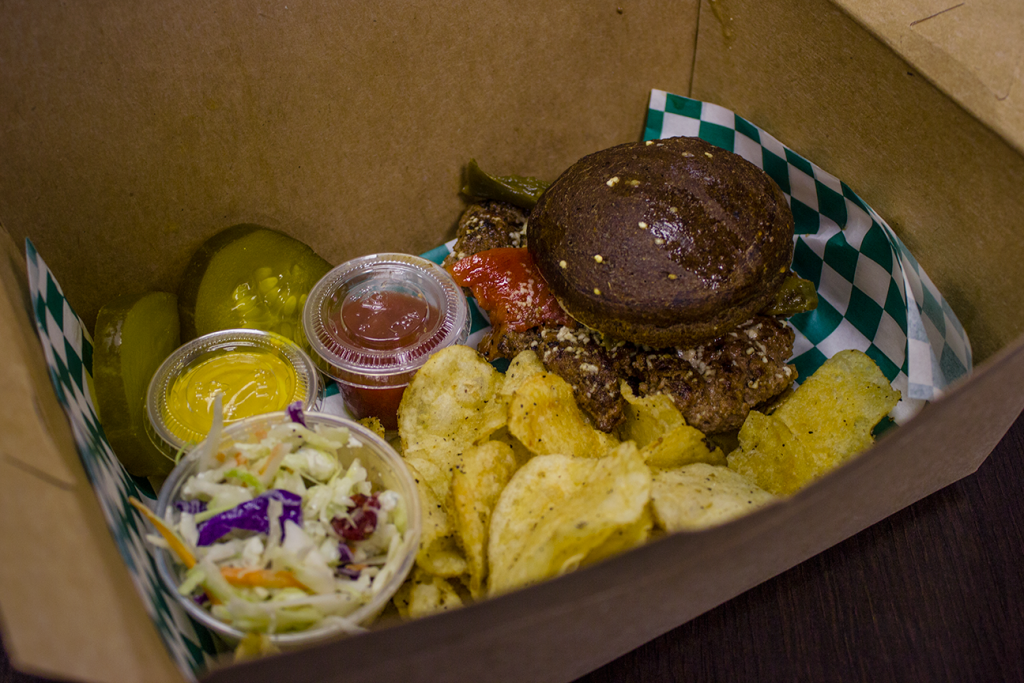 Served in a small cardboard box along with chips and coleslaw, Cooper's Candied Burger features roasted peppers and candied jalapeños with a cotija cheese, served on a Bavarian bun. These meals are cooked to order, so mine came out hot, fresh, and smelling delicious with its aromatic roasted peppers filling the air before it was even served. Chef Bryan Goodell apparently has gained some expertise operating his own food truck, as this burger came out on par with burgers you'd find at gourmet restaurants you might find in the area (Burger 21, for example)… but it came out of a truck. The meat was seasoned just enough, not overpowering, letting the juicy beef shine through despite being cooked more well done than I would usually like (raw). The peppers added a light spice, just enough to add their flavor but not burning your mouth in any way, and providing an excellent texture to compliment the beef. The cheese, too, was a very light touch, and the burger was featured on a delicious, freshly baked bun that reminded me of the bread you might get at Outback Steakhouse… soft, warm, and a perfect cradle for something with a bit of spice to it. The overall result was an incredibly well balanced burger.
The coleslaw was also unique and surprisingly good, with blue cheese and dried cranberries accented with a very light dressing. The salty chips and a sweet Boylan's soda rounded out the meal, leaving me far more satisfied than I would have guessed going to a food truck. And also I felt pleased with myself knowing I played a small part in helping a child not go hungry for a day. The one-to-one relationship between the meal you eat and the meal you are providing a child with really shines a bit of perspective on the donation, and might just make you appreciate your food a bit more than had you gone somewhere else.
Affordable, delicious, locally-minded, and charitable, the Give & Grub Food Truck hits all the marks for me, and it represents everything Only In Tampa Bay stands for. So check them out for lunch, hit them up at a Lightning game, or just spam your Twitter feed with the hashtag #giveandgrub. You'll feel better about yourself, and you'll have enjoyed a delicious meal that you can only find in Tampa Bay.
Give & Grub Food Truck can be found around the Tampa Bay area (find out where they are now on their website).
Learn more about hunger in the Tampa Bay are through Give & Grub partners Feeding America Tampa Bay and Metropolitan Ministries.