Gator's Dockside. REAL FLORIDA CASUAL DINING. None of that pansy-ass Georgia casual dining. Originating in Jacksonville, Gator's Dockside finally fills that giant gap we've been feeling in the sports bar/grill realm. At last we can eat wings and watch sports on TV, right here in Florida! Thanks, Gator's Dockside!
Alright well now that the ridiculous sarcasm is out of the way, I can get on with the review. Gator's Dockside, on Fowler just east of 56th street, is exactly what you'd expect out of a sports bar – television, beer, a good amount of indoor seating, some outdoor seating, and a lot of dudes. Pretty standard. So what makes them so special? THE WINGS.
Yeah. It's another wing review. AWESOME!!! Gator's Dockside has a whole bunch of wing sauces. And wing styles. Variety excites me!
BUT I guess I'm getting ahead of myself. We of course ordered an appetizer. They have a good selection to choose from, including fried gator tail (which is apparently "their most popular"). In retrospect, I really should have ordered some gator tail. Instead, we got this:
This is a bowl of what they call "Gator Taters", which consists of country style potatoes, cheese (cheddar and mozzarella), bacon, and a "secret" layer of delicious ranch dressing. So it's pretty much a bowl of awesome. It's rather good, though it is something that I think would be hard to mess up. It would have been nice if there was more of it, and also I prefer fries because you can pick those up by hand. Check out Outback Steakhouse's Aussie Cheese Fries… same concept, better execution. But either way, delicious.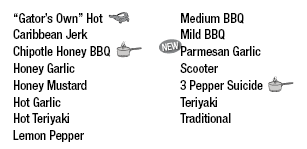 Okay so on to the wings. Gator's Dockside features fifteen different sauces, listed above. They also offer their wings in one of three ways: Gator's famous "Grilled Wings", breaded "Gator Wing", and naked "Buffalo Wing". So you got grilled, breaded and fried, or just fried. You can also get your wings in the "boneless" style, but that automatically makes you a pathetic loser.
I ordered sixteen grilled wings (which is their recommended style, and what they're likely best known for), half "Gator's Own" hot (on the left), and half "Scooter" (on the right), which was recommended by the server, who said it was their most popular sauce. Scooter Sauce, as I recall, is half barbecue, half honey garlic. So it's another sweet/savory combination sauce.
The wings, having been grilled, had a nice char on them, and a slightly smokey flavor to the meat. The Scooter Sauce wing, on top, glistened with saucy goodness; the hot wing was not nearly as seductive. Now, bear in mind that the menu recommends the hot sauce (that's what that little gator by it meant), naming it "Gator's Own", but apparently couldn't give two shits about the Scooter. But the hot sauce was totally lame! Okay, well maybe not totally. But it packed little to no punch at all! As far as I can tell, 3 pepper suicide is the only thing on the menu that might actually be hot, and it will kill you if you eat it! Weak. But despite not being spicy, the Gator's Own hot sauce had an alright flavor; it was pretty run of the mill wing sauce.
The Scooter Sauce was much more interesting, with a very light garlic taste, but mostly a sweet barbecue flavor came through, and I quite liked it. The sauce was also thicker and stickier, which I think served it well. The only problem with it was that the flavor was not pronounced enough… it was rather light, and the taste of the char overpowered it into oblivion on some bites. I really would have liked more flavor. I'd ask for an extra side of the sauce.
So in summation, I can't say that Gator's Dockside is a favorite of mine, but the wings were alright, and I might go back. Grilled wings is a nice touch to have in a world of fried wings, especially for what is more or less just a sports bar. Oh except for on Tuesday nights. Apparently Tuesday nights are for kids, and they have clowns and shit. Avoid that.