Bahama Breeze… yeah that's nice. Take a break. Fantastic.
Bahama Breeze is a chain of Caribbean-themed restaurants. This particular store is located on North Rocky Point Drive, just barely on Tampa's side of the Courtney Campbell Causeway. It's a really nice area, and is one of the few places you can be in Florida and unironically think "sometimes Florida isn't all that bad". And Bahama Breeze fits right in there. Just looking at it from the outside makes you want to order a margarita and just chill for a while.
The inside is large and open. There is outdoor seating as well as indoor, which is nice for the area (in general, somewhat pointless for Florida). It has a big bar in the center, and the kitchen is open so you can watch fires explode as they cook, intentional or otherwise. It's a good environment. I went with my brother and father, so we ordered a couple appetizers in addition to our meals.
Tirst up is the crab, shrimp, mango, and avocado stack. Uninspired name, super presentation. Looked real nice. And tasted pretty nice too. All fresh ingredients, with an apple-mango salsa that really made it. I am not a big fan of seafood, and chilled seafood kind of messes with my mind, so I didn't partake in the shrimp. But I did have some crab, and as I said: good stuff. The stack was a little awkward to eat though… definitely a form over function situation.
And wings. Of course. I have promised myself that if I visit a place that carries wings, I will have to try them. This is pretty much a wing blog at this point. WING BLOG!!! So, these are Bahama Breeze's Jamaican Grilled Chicken Wings. Annnnnnnnnd they were delicious. They were grilled very well, with a nice bit of char on them. They weren't the most tender wings I've ever had (see: The Copper Top Pub), but they weren't bad by any means. And the jerk sauce used… SO GOOD. This is what I was looking for when we went to Buffalo Wild Wings… it had a bit of savory, herby spice, but a good amount of sweet to it as well. Perfect. My only complaint was they were the whole wing, left together. I definitely prefer the wings to be split, and even then I do not care for the little wing tip. Basically, the more it looks like an actual chicken wing, the more grossed out I am about eating it. I don't want to know where it came from! I JUST WANT DELICIOUS MEAT!!! But the flavor won out in the end. Matter over mind, baby.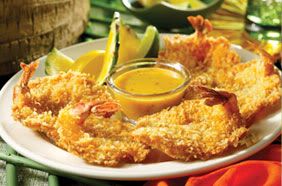 "Honorable mention" goes to the Coconut Shrimp. And by honorable mention, I mean to say it was the best thing I had there, and I didn't take a picture of it. So I just stole the picture from the site! THIEVERY! Okay, so this was delicious. Large shrimp, butterflied, breaded with coconut, and fried. Just as is, they were amazing (fried anything is good; this was great), but they were served with a citrus-mustard dipping sauce, which was both sweet and savory, maybe a little spicy, and completely wonderful. I would dip anything in this sauce and eat it, including cat. Delicious, stringy cat.
My main meal was the Jerk Chicken Pasta. It kind of paled in comparison with the appetizers (not to mention my brother's Jerk Painted Black Grouper… SHOULD HAVE GONE WITH THE GROUPER), but it was pretty good. It had jerk chicken (obviously), asparagus and mushrooms, and bow-tie pasta, in a parmesan herb sauce. The asparagus and mushrooms were good, nothing special, and the sauce was lackluster at best (weaksauce?). But the chicken was delicious. There were pretty large chunks of it in there, so it was a pretty good meal, but it makes me wish I had just gotten a chicken dish, or that damned grouper.
So the conclusion is that these guys know how to do meat. They grill a mean… anything they wanna grill. It was really good, and they boast a nice sized drink menu. It's a bit of a drive out there, but if you're in the area and in the mood for this sort of place, or even if you're not, I totally recommend it. Delicious.