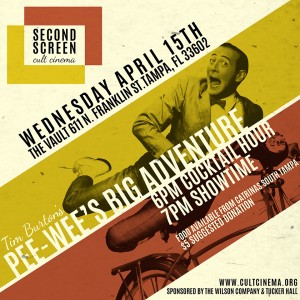 Second Screen Cult Cinema, a pop-up film series, carries right along with its mission to bring cult classics to the public and help invigorate Tampa's urban core by presenting a showing of Tim Burton's "Pee-wee's Big Adventure" at The Vault in Downtown Tampa.
"Pee-wee's Big Adventure" follows beautiful man-child Pee-wee Herman on a cross-country journey to find his stolen bicycle. This classic tale of "man loses bike" is told through the warped lens of Tim Burton, turning what would otherwise be a very normal story into a bizarre series of memorable scenes including a heroic fire rescue scene and a biker bar dance sequence. Brought to life with a score by Danny Elfman, "Pee-wee's Big Adventure" is a masterpiece of cinema, and will probably leave you desperately searching the internet for someplace to buy a bike just like Pee-wee's.
The film will be accompanied by food available for purchase from Catrinas Cocina y Galeria, a restaurant located in South Tampa, serving authentic Mexican cuisine. The signature cocktail of the evening will be a margarita crafted by Dean Hurst, mixologist for Bern's Steakhouse, the former SideBern's, and the new Haven. As usual, the audience is invited to stick around immediately following the movie for conversation about the film.
Second Screen Cult Cinema will show a cult film every third Wednesday of each month. Each screening will also feature a local eatery, as well as a cash bar with themed craft cocktails, lounge-style seating, and the obligatory popcorn. The series began with a screening of Michael Powell's "Peeping Tom", followed by a showing of David Lynch's "Mulholland Drive", and will continue with Mario Bava's "Danger: Diabolik" (May 2oth). The series will continue into the summer, with its programming to be announced in early May.
6pm cocktail hour. 7pm showtime. $5 suggested donation at the door.
For more information visit: www.secondscreencultcinema.org, or www.facebook.com/SecondScreenCultCinema