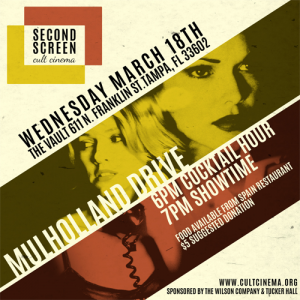 Second Screen Cult Cinema, a new pop-up film series, continues its mission to bring rarely shown films to the public and help invigorate Tampa's urban core by hosting a showing of David Lynch's "Mulholland Drive" at The Vault in Downtown Tampa.
A neo-noir mystery, "Mulholland Drive" concerns an actress who has recently moved to Los Angeles, and is thrown into a world of sex, nightmares, murder, intrigue, and failure. Or at least I think that's what the movie is about… the film is rife with David Lynch's signature style, leaving much of the story up to the audience's interpretation. Prepare your brain for a barrage of symbolism, metaphor, cinematic irony, visual analogies, and things meaning other things, and hope against hope that you can piece together some sense out of a plot that even the film's cast couldn't figure out.
The film will be paired with food available for purchase from Spain Restaurant & Toma Bar, a Spanish restaurant with a focus on tapas located in Downtown Tampa. The signature cocktail of the evening will be an espresso martini, inspired by a scene from the movie. And, as usual, the audience is invited to stick around immediately following the movie for conversation about the film (which may be entirely necessary for any semblance of understanding/closure on this particular film).
Second Screen Cult Cinema will show a cult film every third Wednesday. Each month will also feature a local eatery, as well as a cash bar with themed craft cocktails, lounge-style seating, and the obligatory popcorn. The series began with a screening of Michael Powell's "Peeping Tom", and in the coming months will continue with Tim Burton's "Pee-Wee's Big Adventure" (April 15th), and Mario Bava's "Danger: Diabolik" (May 2oth).
6pm cocktail hour. 7pm showtime. $5 suggested donation at the door.
For more information visit: www.secondscreencultcinema.org, or www.facebook.com/SecondScreenCultCinema