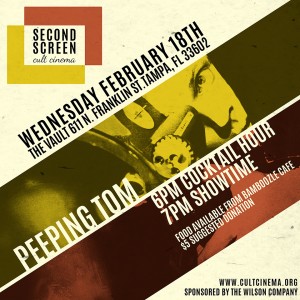 Many people often like to complain about the lack of things to do in Tampa Bay. Luckily, within the past couple of years, it has become increasingly easier to rebut such claims. Just this week alone, there are no less than 7 unique events happening. From Ybor, to Seminole Heights, to Downtown Tampa. It's becoming harder and harder to bitch about what we don't have (sorry!). New and exciting events are popping up all over the Bay Area each month. It's a truly exciting time to be alive in The Bay.
So, it should come as no surprise that nonprofit Second Screen Cult Cinema, a new, pop-up film series, will be kicking off their monthly cult experience tonight with a showing of the 1960 film "Peeping Tom" by Michael Powell. Started with the mission to not only bring rarely shown films to the public, but to also help invigorate Tampa's urban core, Second Screen Cult Cinema will show a cult film every third Wednesday of the month at The Vault in Downtown Tampa.
Each month will also feature a local eatery (tonight, it's Bamboozle Cafe), as well as a cash bar with themed craft cocktails (such as the Peeping Tom Collins), lounge-style seating, and the obligatory popcorn. The coming months will include David Lynch's "Mulholland Drive" (March 18th), Tim Burton's "Pee-Wee's Big Adventure" (April 15th), and Mario Bava's "Danger: Diabolik" (May 2oth).
6pm cocktail hour. 7pm showtime. $5 suggested donation at the door.
For more information visit: www.secondscreencultcinema.org, or www.facebook.com/SecondScreenCultCinema