Picture it. Gateshead, England, 1960s; a dingy porn cinema on the verge of collapse, and its employees at each other's throats, as they grapple with the repercussions of a high profile kidnapping. This is Peter Straughan's "Bones", a dark comedy that follows two Jewish brothers as they attempt to save their cinema, and themselves, from seeing an early death. And just as quickly as cast member, Slake Counts yells, "forget the cunt!", the tone of the play is set, and Silver Meteor Gallery is back in the game.
An old house nestled off of 6th Ave, right behind the train tracks of Ybor City, Silver Meteor Gallery has been given fresh duds, both inside, and out; a task which owner, Mike Murphy, has given great thought. Having to form his modifications to fit within historical preservation mandates, the house's facelift has removed all of the bad, and kept all the charm. While still a work in progress, it's well on its way to something special.
"Bones" roots us at The Roma, a porn cinema owned by brothers Ruben and Benny, which we find has been funded by the help of local gangsters, ones that are looking to get their money, as evidenced by Benny's bloody nose. As Benny (Greg Thompson), the eldest, feverishly chugs bottles of alcohol, and attempts to come up with some way of fixing the situation, Ruben (Ryan Bernier) already has a plan in the works.
By chance, Ruben has come face to face with one half of the renowned Kray Twins, Reggie Kray (Slake Counts), after he shows up at The Roma seeking a prostitute. Unable to give Kray what he wants, Ruben instead, gets him drunk, takes off all his clothes, and ties him up in the backroom. His plan, of course, is to hold Kray for ransom in order to get a giant payout that will free them from their debt.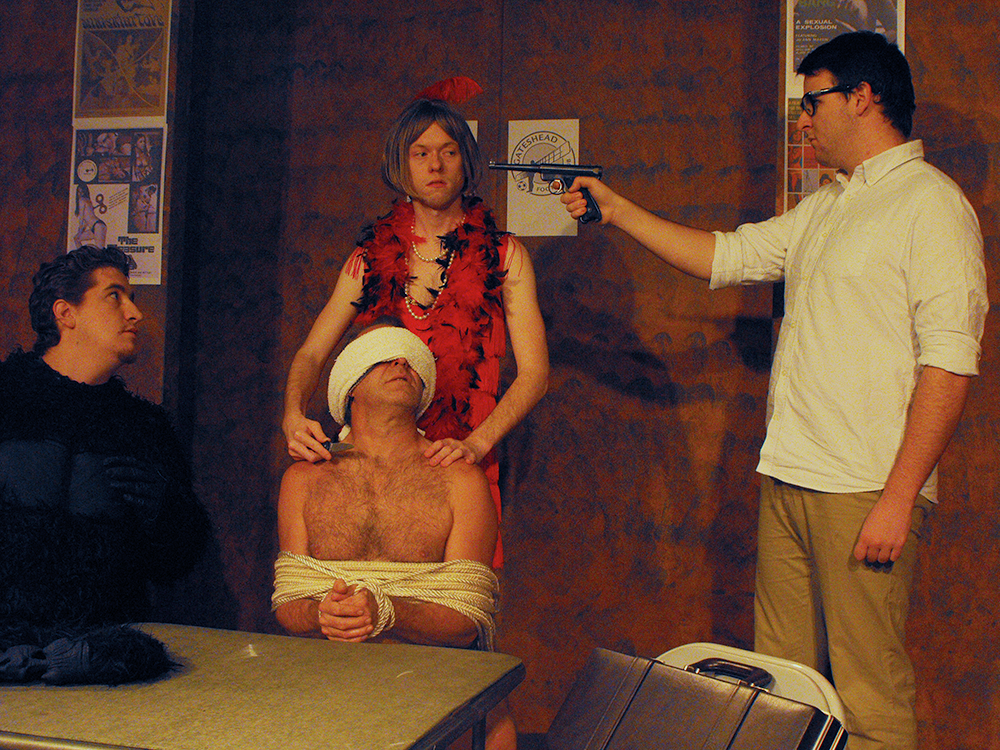 The entirety of the kidnapping quickly becomes apparent to everyone after Moon (Nathan Juliano), discovers Kray's body passed out in the backroom. Due to a theme night at the cinema, Moon spends the play decked out in a gorilla suit, while his coworker, Beck (Johnny Garde), spends it in a flapper dress; an ode to "King Kong" and "Some Like it Hot". These two bicker about movie facts, and spend much of their time playing the angel and devil on the shoulders of their cast mates.
Everyone is rightfully apprehensive at the idea of kidnapping this gangster, but are wooed over by the idea of each getting a cut of the money out of the deal. Their plan begins to sour as Ruben mentally comes undone, and seeks answers from Kray's warped mind. Each member of the cast is taken to task, being asked to do unconscionable things, as they try to find a way of making it out of this kidnapping unscathed. Their morals and allegiances fall away as Ruben falls apart.
Greg Thompson's Benny is adeptly cold and demanding, yet with an added element of being a truly good guy under the layers of moral decay. Ryan Bernier tackles the two sides of Ruben's psyche flawlessly, as he allows the meekness to give way to something much more sinister. Nathan Juliano's Moon is precious and adorable, playing into the character's starry-eyed optimism, and skittish nature. Johnny Garde's Beck is especially intriguing, as he goes beyond the aspects of the character solely being a tough smartass, and gives him an almost depressing desire for something more out of life. Slake Counts' Reggie Kray is just utterly frightening, and packs a punch with just a stare from his icy eyes.
The cast comes together as if they have known each other for years, and it heightens the emotions overall. You want it all to work out for them, because you don't want to see this group so damaged. The set design is impressively inventive, allowing for room changes that appear all their own via spinning back walls and quick prop switches. As the first new production by Silver Meteor Gallery in their revamped space, "Bones" is a perfect gem for their return to Tampa Bay's theatre scene. It's a play that draws you in with laughs, but keeps you planted to your seat with intrigue. It will be exciting to see what else the space has in store for 2015.
UPDATE: The original post erroneously reported "Bones" as the first new performance in Silver Meteor's new space. While it is the latest production put on by Silver Meteor in the new space, it is not the first performance. That title actually goes to Ghost Light Theatre Tampa's "A Haunting at the Meteor". 
"Bones" runs through December 22nd at Silver Meteor Gallery.
Tickets: $15, $12 for student, senior, & TTB members. Purchase via EventBrite, or 813-300-3585 for more info.