It's a Saturday night, and I'm sitting in a chapel disguised as a theatre. Complete with seating of about 150 people, and a sprawling, wall-to-wall stage. The only reminder of God, or Christianity is in the understated stained-glass windows that sit high on the surrounding walls. My eyes dart, seeking out the stereotypical pained, bleeding Jesus on the cross. Nowhere to be seen. I sigh with relief.
This would only be the first of many anxieties to come.
Nestled alongside St. Petersburg's Central Avenue, is the former Second Church of Christ. What feels more like a miniature middle school campus than anything else is the relatively new home of FreeFall Theatre. Word of mouth social media whisperings convinced me to venture out to the independent production of David Mamet's one-scene, two-person, three-act play "Oleanna".
Produced and directed by local commercial director, Brandon Windish, "Oleanna" is not part of the FreeFall lineup this season. Acting as more of bittersweet bonus track, Windish requested the use of the space for the production, and luckily for us, was granted permission.
The first act is seemingly commonplace, wherein we find the meek Carol attempting to speak with her haughty professor, John, about her inability to keep up with his class. Their conversation is constantly punctuated by the ringing of his phone. She speaks through determined stutters, attempting to find her words over the pomp of his ramblings. The first act ends, and it seems the two of them have reached an agreement on helping her pass.
But this couldn't be further from the reality…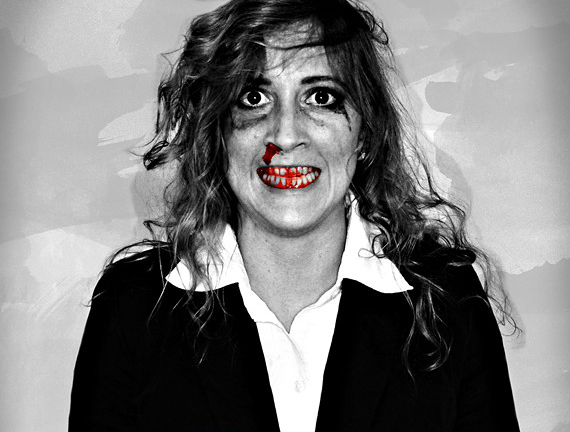 From here on out, it's a blur. Acts two and three rise and fall, and demand attention at every moment, and in every detail. Before I know it, the story is unraveling just as quickly as it's built. The short intermissions between acts, pounding with intense tribal music, offer little respite, and trying to recall all the particulars are of no help in hoping to defend, or deny either character's position.
Emily Belvo and Chris Rutherford, the only two actors on the bill, play Carol, and John, respectively. Their performances soar from bellowing and assured, to reserved and frightened. Both command every moment of your attention and eventually speak so earnestly, that sitting in on their rollercoaster drama leaves your sympathies split down the middle.
"Oleanna" is an unassuming force. It's about the meanings found in one's touches and gestures. It's about the relationships between power and control; who has it, and how do they wield it. There is a fine line between what one sees as a meaningless hand on the shoulder, and what another sees as a sexual advance. In a play that relies so heavily on perception (both of the audience, and the characters on stage), it's surprisingly difficult to separate the innocent from the nefarious. In the end, being the fly on the wall is of no help when making the final judgement. Questions will linger in your mind long after the lights have dimmed.
Who was right? Did I see what I think I saw? Does it matter what I think I saw?
"Oleanna" runs June 6th-22nd at Freefall Theatre, 6099 Central Ave., St. Petersburg.
Tickets: $15. brownpapertickets.com or (727) 498-5205 for more info.