Close your eyes and visualize a world where nothing hurts and everything is beautiful. Do you see it? Yes? Okay, now describe it. What's that? Oh… Really? No, that's definitely not right. Not right at all. Whatever you're seeing is wrong. Completely wrong. Get away from me, you monster.
Clearly, I'm talking about the 90s. You know, the 1990s. The very same era that brought us slap bracelets, fanny packs, and those weird pants with the funky, geometric designs, and elastic leg holes. It was a truly magnificent, if not innovative, time in American history. But of course, it would be naïve to say that the 90s only offered brilliant fashion choices.
Obviously, one of its greatest triumphs was its music. Between dance and hip-hop, there was always something fresh sounding coming from the speakers. And, some 20 years later, this holds true today. As evidenced by revivals staged by such acts as Gorgon City, Tensnake, and countless others, it's a sound that sticks. Whether you like it, or not (you totally like it), the 90s are back.
Enter LC Stormy Angel, a Sarasota based singer/rapper, with a penchant for 90s dance and hip-hop sensibilities. Having been writing and recording her own music for the past decade, it would be unfair to pigeonhole her as just a proficient 90s copycat, and although there is an uncanny likeness to one Jessie Spano, she is an eclectic artist with much more varied interests.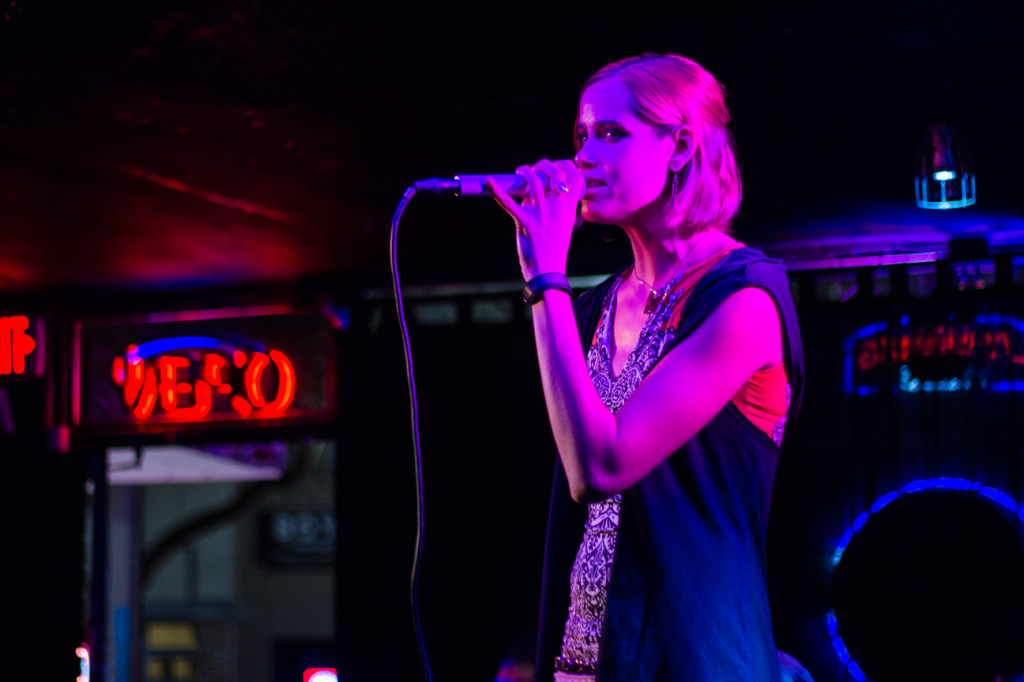 She is best described in the following origin story: Emerging from a mid 90s cryogenic stasis, after having lived off of nothing more than an audio diet of soul, jazz, and funk, LC Stormy Angel was thrust into our modern world of electronic dance everything, and was left to fend for herself as she pieced together a sound that could transcend all time and space. She is… LC Stormy Angel.
It's apparent that she finds her inspiration in a variety of styles and is eager to experiment with as many as possible. Her music can serve up to 4 different genres in just one song, and finds pleasure in merging musical eras. In her song "RainFall" she moves effortlessly from plucky, tribal beats, to slick, blues guitars, and just as easily trades in her smokey vocals for sharp-tongued raps. In description it sounds like a potential train wreck, but on record, it's far from it.
The most telling example of her genre mashups is best heard in her song "Feel It", which features her soulful voice over glittery lounge keyboards, bossa nova basslines, and electronic claps, to a sudden jump into classic, 90s beats, flavored by her quick spitting rhymes. Again, not a train wreck. It just works.
Vocally, LC Stormy Angel has a diverse range just as inspired as her era-bending music. She switches styles from song to song, going from smooth and deep, to quivering higher pitches, to confidently candid rapping. Think the love child of BANKS and India.Arie, wrapped in Grandma Badu's magical shawl, raised by Lauryn Hill, and Left Eye.
LC Stormy Angel's sound remains keenly fresh via its roots in 90s dance and hip-hop, but is made moreso by way of her embracing of jazz, soul, and modern electronic dance staples. Her songs are a touch untethered to completely studio polished pop, allowing for a sound that is much more rich and raw, which honestly, helps keep her within the space of artist, rather then performer. Her work is ultimately a time capsule of a place all her own, which she wields powerfully.
LC Stormy Angel can be found on Facebook, Reverbnation, and  Soundcloud.